Located in Downtown Boston, Kala Thai Cookery is the purveyor of fine Thai Cuisine from the esteemed Chef Manita Bunnagitkarn.
Photos by Jessica Nathania
Kala Thai Cookery opened in August 2018 and is located at Downtown Boston. This is renowned chef Manita Bunnagitkarn's 2nd restaurant after her incredible success with her first restaurant Cha Yen Thai Cookery which is located in Watertown, Ma. With a degree from Johnson & Wales and training under Todd English, Manita Bunnagitkarn could very well have gravitated towards fine dining. Lucky for us, the skilled chef set up shop in a concentrate on MSG-free, made-to-order Thai food.
Phone
EMAIL
Location
151 Hanover street
Boston, Massachusetts 02109
Hours
M-Th 11.30am–9.30pm
F-Sa 11.30am–10pm
Su 3pm-9pm
STARTERS (All Appetizers Are Made in-house)
$

6.75
Pop Piah
Cucumber, bean sprouts, spiced tofu, scallion, and egg in soft rice flour wrapper served with tamarind dressing
$

5.75
Crispy Rolls
Crispy rolls stuffed with cabbage, carrots, mushrooms, and bean thread noodle
$

6
Corn Cake
Fried sweet corn fritters with sweet and spicy peanut dressing
$

6.25
Fried Bean Curd
Served with cucumber relish, sweet and spicy peanut dressing
$

7
Cheesy Shrimp Rolls
Crispy rolls stuffed with mozzarella cheese, sweet corn, onion, and scallion
$

6.75
Chicken Wings (Mild Spicy)
Fried and tossed with spicy garlic sauce
$

7
Tod Mun (Spicy)
Fried spicy fish paste served with sweet peanut dressing
$

7
Kapow Dumplings (Mild Spicy)
Steamed or Fried chicken hot basil dumplings
Salads (Add Grilled chicken $4/ grilled salmon $5)
$

7.5
House Salad
Green leaf lettuce, red onion, tomato, orange segment, cucumber, radish
$

7.5
Mango Salad (Spicy)
Mango, red onion, cilantro, scallion, chilli flakes, carrot, Chinese celery and cashew nuts
$

8
Papaya Salad (Spicy)
Green papaya, tomato, green beans, chilli, lime juice, carrot and peanuts
Noodles (Chicken/Tofu/Veg $9.55, Beef/Shrimp $10.95)
Pad thai
Rice noodle, stir-fried with egg, spiced tofu, bean sprouts, scallion, fried shallot and peanuts
Kee Mao (Double Spicy)
Wide rice noodles stir-fried with garlic chili paste, green beans, carrots, onion, peppers and basil
See Ew
Wide rice noodle stir-fried with egg, Chinese broccoli and black soy sauce
Sukothai (Spicy)
Choice of egg noodles or rice noodles, soft-boiled egg, fish cake, fish ball, green beans, scallion, cilantro, and peanuts
Spicy Noodle Soup
Choice of egg noodles or rice noodles, Spicy tom yum broth, bean sprout, cilantro, scallion and peanuts
$

10.95
Char Kway Teow (No Meat Substitute) (Spicy)
Stir fried rice noodle with shrimp, egg, pork sausage, bean sprout, and chinese chive scallion
$

9.55
Chicken Herbal Noodle Soup (No Meat Substitute)
Choice of egg noodles or rice noodles
Fried Rice (Chicken/tofu/veg $9.55 Beef/shrimp $10.95, +$0.50 for brown rice substitute)
House Fried Rice
Egg, carrots, onion, green peas, tomato and scallion
Pineapple Fried Rice
Curry powder, egg, carrots, onion, green peas, diced fresh pineapple, tomato and scallion
Basil Fried Rice (Double Spicy)
Peppers, onion ,green beans and basil
$

4
Tofu Soup
Silken tofu, Napa cabbage, mushroom, and scallion
$

4
Tom Yum Soup (Choice of chicken, shrimp or tofu) (Spicy)
Spicy herb broth with mushroom, cilantro and scallion
$

4
Galangal Soup (Choice of chicken, shrimp and tofu)
Coconut broth with oyster mushroom, scallion and cilantro
Grilled Meat/tofu over rice (Served with seasonal veg, +$0.50 or brown rice or sticky rice substitute)
$

9
Chicken Satay
served with peanut/ cucumber relish
$

9.55
Spicy Chicken (Spicy)
Grilled chicken tossed with spicy cilantro onion dressing
$

10.95
Shrimp (Spicy)
Grilled shrimp tossed with smoked chili cucumber dressing
$

9
Beef (Spicy)
steak tips marinated with asian bbq sauce
$

9
Tofu
Silken tofu marinated with ginger soy dressing
Curry (Chicken/tofu/veg $9.55 beef/shrimp $10.95) Large portion add $4 served with jasmine rice on the side +$0.50 or brown rice or sticky rice substitute)
Green Curry (Double Spicy)
Corainder paste, bamboo, eggplant, green beans, basil and peppers
Pineapple Curry (Spicy)
curry powder, diced fresh pineapple, carrots and tomato
Panang Curry (Double Spicy)
Green beans, kaffir lime leaves, peppers and basil
Massaman Curry (Spicy)
Onion, carrot, potatoes and toasted peanuts
Red Curry (Double Spicy)
Red chili paste, bamboo, basil, peppers and eggplant
Chef Specialties (Chicken/tofu/veg $9.55 beef/shrimp $10.95) Large portion add $4 served with jasmine rice on the side +$0.50 or brown rice or sticky rice substitute)
Stir-Fried Cashew Nut (Spicy)
Smoke chili paste, onion, mushroom, zucchini, carrot, pineapple, peppers, scallions and cashew nut
Stir-Fried Ginger
Onion, garlic, shitake mushrooms, and scallion
Stir-fried Garlic
Onion Scallion and Bok Choy
Kapow (Double Spicy)
Chilli, garlic, peppers, green beans and Thai basil
$

10.95
Roasted Duck Breast (No Meat Substitute)
Served with marinated soft boiled egg and asparagus
Dessert (Single serving 3.8 oz, no artificial ingredients)
$

2.75
"Flavor of the Week" Homemade Ice Cream In a Cup
$

1.65
Can of San Pellegrino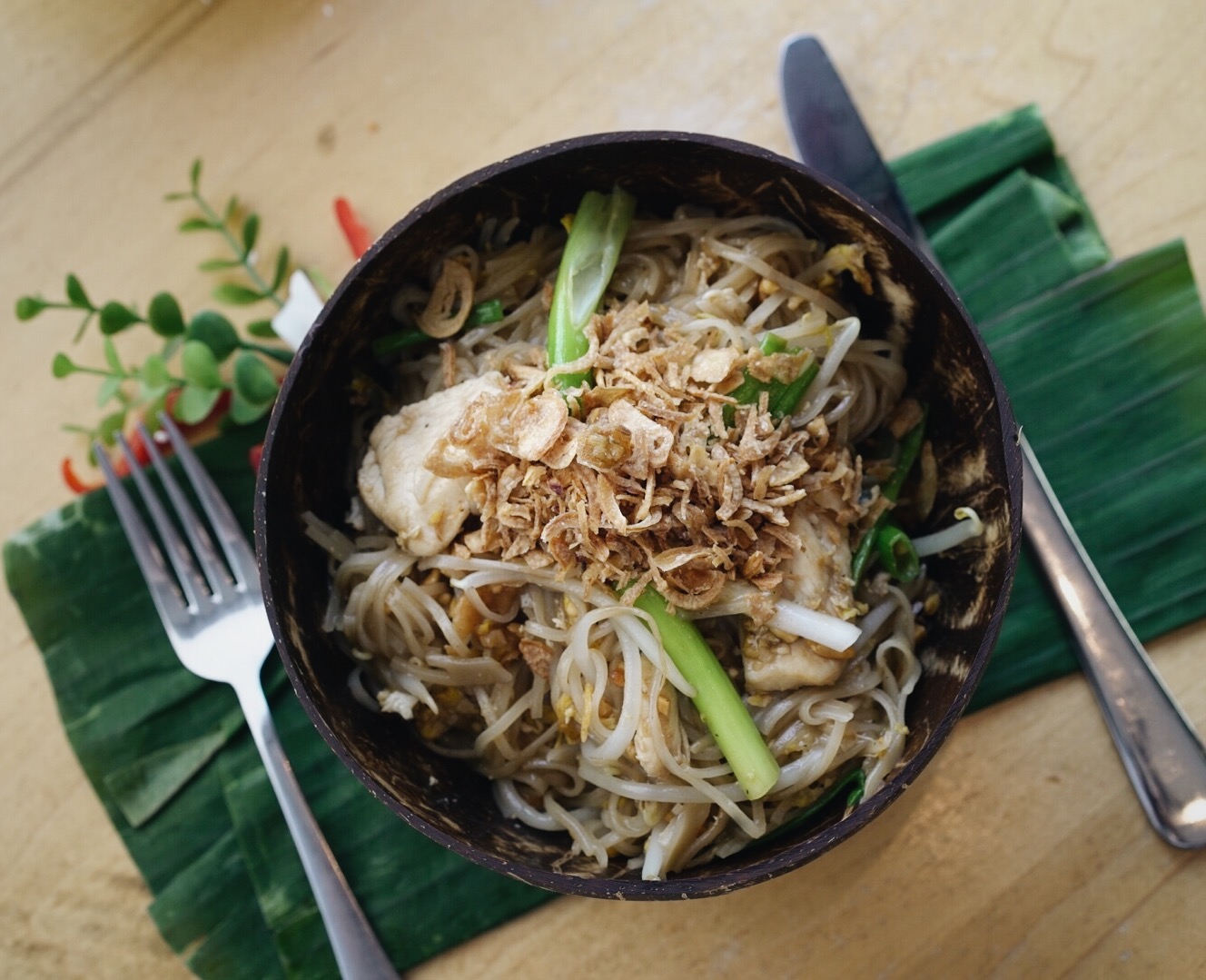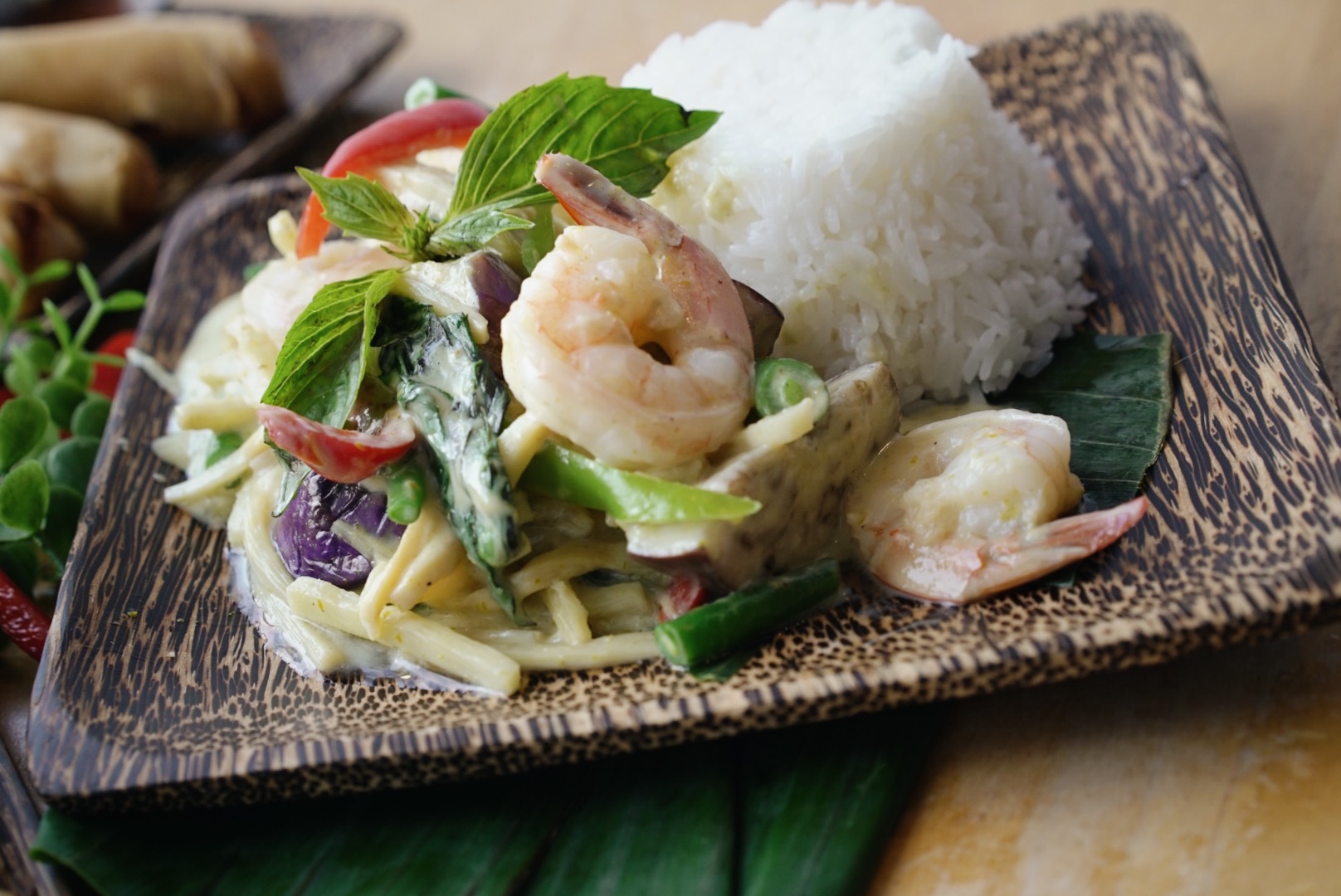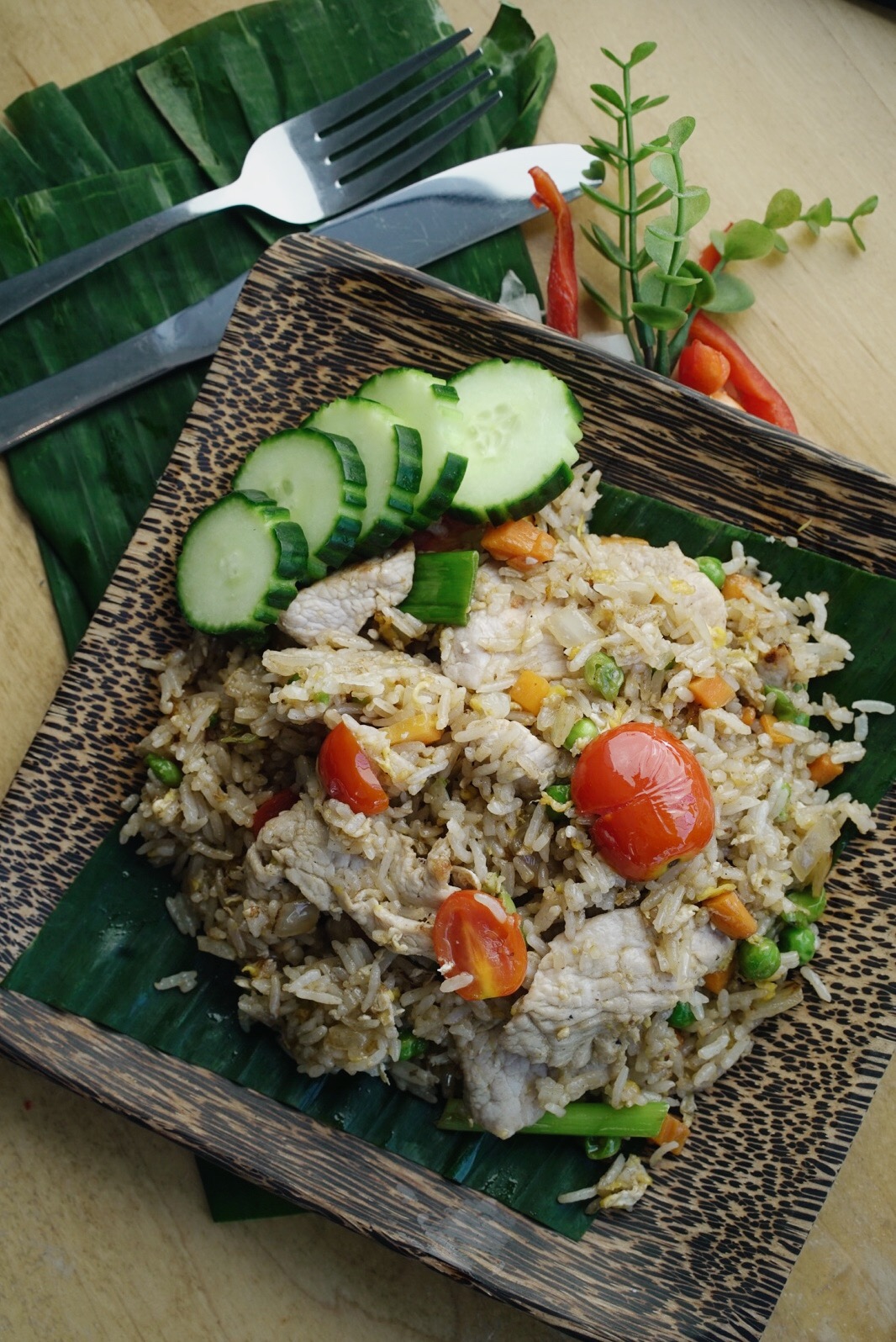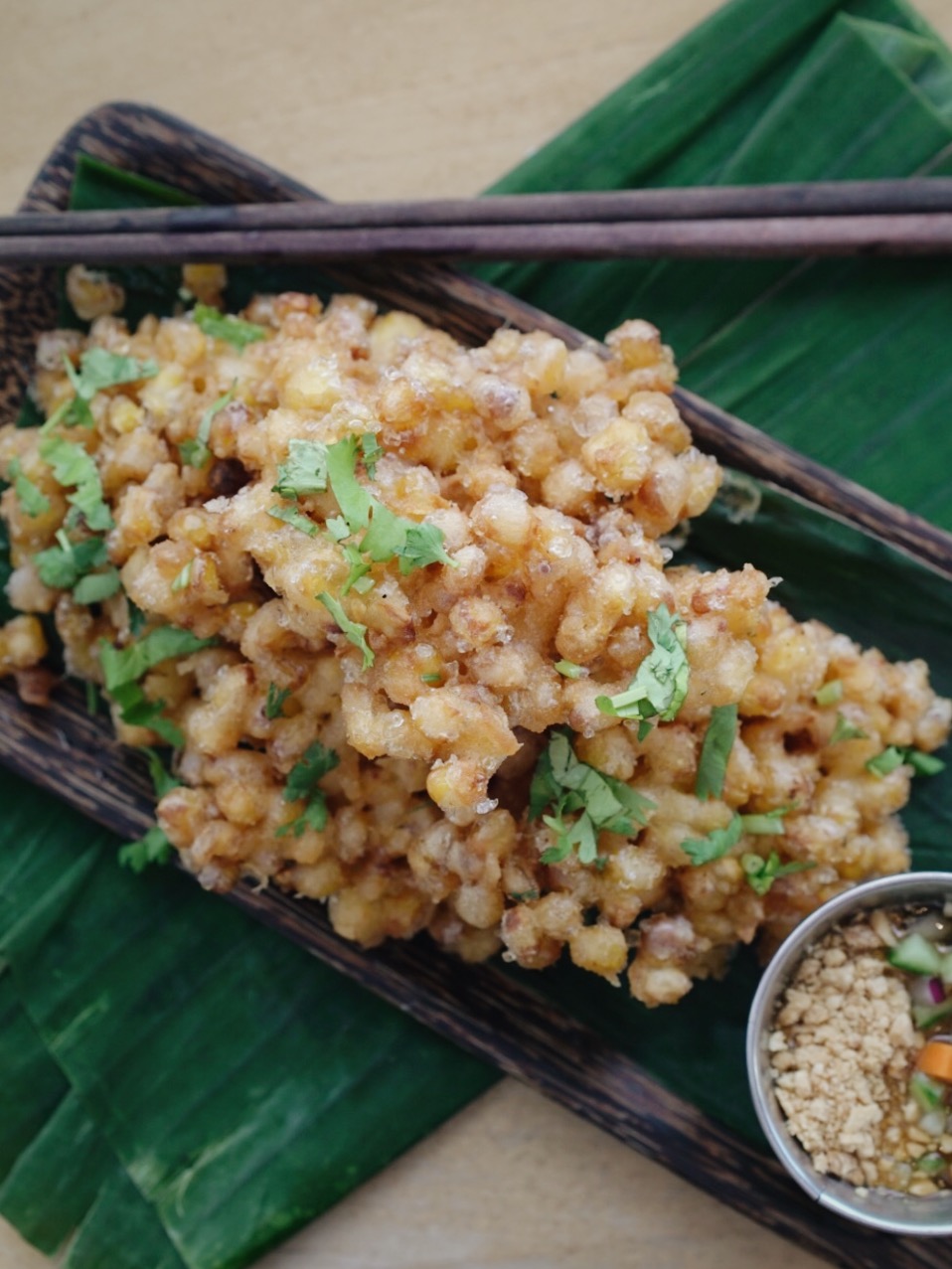 Contact Us
Kindly contact us for catering and any other inquiries,